Promotion:
Save 25% on a new media control system
A Fistful of Remotes
Ever been so frustrated with the cluster of remote controls on your coffee table that you just wanted to throw them out the window? Do any of these situations sound familiar?
You have a new TV, player or set-top box, and now there's

another

remote in your living room that doesn't work with any of your other devices.
You finally have your remotes synced with an elaborate checklist of commands, but after Grandma watched her favorite show, nothing works anymore and you can't figure out why?
The babysitter calls you on your date night, trying to figure out how to watch a movie?!?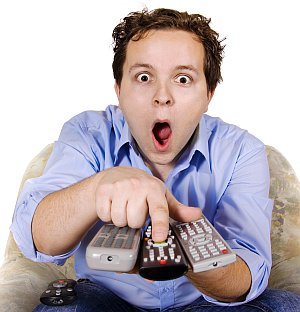 You're not alone … "remote controlitis" is a common ailment, and it just gets worse with each new component or feature added to today's entertainment systems.
Watching a movie or DVD shouldn't
require a degree in electronics!
One Remote to Rule them All
Let the technology specialists at Cleartech Solutions help! We replace your table of remotes with a single, intuitive remote control system to intelligently control all of your audio & video equipment.
Sit down, tap a single button on your new remote, and watch as your media system automatically powers on, sets itself to the proper inputs & settings, and does what you want. With easy-to-use buttons like Watch Cable TV, Watch Netflix or Listen to iPod, anybody will be able to walk up to the remote and use it, even grandma or the babysitter!
Simple, clear and easy to use
Feburary Remote Control Promotion
Remove the angst of dealing with your media system with our "Unclutter your New Year" promotion. Through the month of February, Cleartech Solutions is offering a 25% discount on new remote control systems – yes, on both the remote and programming/installation services – to help you take control over your media experience!
Your new control system will feature a professional remote that has been custom programmed for your system and the media you access. No more remote clutter or angst … throw every other remote in a drawer and never bother with them again!
Contact Cleartech Solutions today … tell us about your media system and we will create a custom estimate for your new remote control system. Taking control of your entertainment system has never been easier or more cost-effective!